La Bohème
by Giacomo Puccini
libretto by Luigi Illica and Giuseppe Giacosa
in a new version by Robin Norton-Hale
Soho Theatre, London
I was not entirely convinced by English-language opera after watching an operatic interpretation of

King Lear by the English National Opera last year that effectively involved cast members singing out entire fragments of Shakespeare's text. I felt that perhaps some types of artistic expression were best enjoyed in their original form and opera, more than anything, should only be experienced that way.
Yet, this fresh, energetic production by OperaUpClose in association with the Soho Theatre couldn't help but pique my curiosity.

La Bohème, one of Puccini's greatest works, as an English-language opera set in the present day and performed at a small Off West-End theatre? Could it possibly work? I thought not, but then wasn't Jonathan Larson's

Rent, which won the 1996 Tony Award and Pulitzer Prize for Drama, a modern retelling of La Bohème?
This new version of

La Bohème, written and directed by Robin Norton-Hale, premièred at the Cock Tavern Theatre in Kilburn in December 2009 to excellent reviews and went on to run for six months, making it the longest continuously running opera in the world. And this revival at the Soho Theatre has lost none of its raw, sweeping charm.
Norton-Hale's libretto relocates the action of the opera from 1830s Paris to twenty-first century London, in a tiny flat in Soho. Rodolfo (Robin Bailey) is a struggling writer whose novel has not quite taken flight and who is reduced to writing articles for an online magazine. His flatmate Marcello (Laurence Meikle) attempts to make modern art paintings that end up cluttering the floor. Their radiator does not work and it's absolutely freezing. As we take in their messy flat, filled with bric-à-brac such as old newspapers, posters for music gigs, random party photographs and half-empty bottles of wine, the scene strikes a familiar chord: everyone who has been a student or lived in a gritty London flat knows exactly what this is like. And watching an opera where the actors are all in their twenties and which is actually taking place at Soho itself makes the world of Rodolfo and Marcello that much more believable, bringing about a familiarity that a big opera house and a mature cast simply would not bring.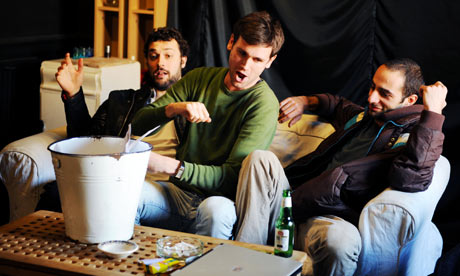 The biggest issue for opera purists would be this production's substitution of an entire orchestra for a single piano. While it may be seen as reductive, Andrew Charity's musical direction is perfectly adequate and the score captures the overall mood of Puccini's opera and its key musical themes well enough. The music has obviously been re-worked to fit the new translation but yet retains the capacity to tug at all the right emotions. I still found the duet between Rodolfo and Mimi when they first meet in the dark (O soave fanciulla

in the original opera) to be beautifully romantic and heartfelt.
The first Act flows smoothly as Rodolfo and Marcello lament about their lives and are then joined by their friends, Schaunard and Colline. While finishing up an article before joining his friends at the pub, Rodolfo meets Mimi, a Ukrainian cleaner, who comes to borrow change for the gas meter. She loses her key, the lights go out at their building and the two of them fall in love. The English translation works amazingly well and is thoroughly contemporary without being jarring, throwing in references to Dean Street and David Cameron alongside more amusing anecdotes about how they should just make do with basic groceries from Sainsbury's: if it's good enough for Jamie Oliver, it's good enough for them. Once again, by placing the words of the opera in a familiar context, it becomes more accessible and plausible rather than being yet another fanciful tale from a distant land.
The real surprise of the production came after the end of the first Act. The audience had all moved to the bar downstairs and as everyone was mulling around with their drinks, street peddlers started approaching people, touting pirated DVDs and cigarettes. I genuinely thought that these were people who may have wandered into the theatre and were trying to make a quick sale from the theatre crowds. Little did I realize that this was part of the action: the second Act was in the theatre bar itself! The next thing we knew, Rodolfo, Marcello, Mimi and their friends strolled into the bar and started ordering drinks, paying absolutely no heed to the rest of the audience and happily settled into a table in the corner. As a spotlight shone on them, I suddenly noticed that a piano had been concealed in a corner of the bar.
A particular highlight of the short but wickedly entertaining bar scene were the antics of Musetta (Louise Lloyd), Marcello's on-off girlfriend who makes a loud entrance with a conservative older man and ends up embarrassing him to no end by doing a provocative dance on a table in a vain attempt to make Marcello jealous. Indeed, at times it felt like being at a tennis match as the audience turned their heads this way and that to see the increasingly heated exchanges between Marcello and Musetta until they finally reconciled with a dramatic kiss right in the middle of the bar. I thought this interactive element was extremely clever; why not act out a scene set in a Soho bar at a real Soho bar itself and make the audience part of the atmosphere? Full marks for authenticity.
T
he emotional barometer varies considerably in the final two Acts, set back in the upstairs theatre. We learn that that both pairs of lovers have parted ways and we swiftly move from the hilarious antics of the guys entertaining themselves with cheap groceries to a genuinely moving finale where the destitute and dying Mimi arrives at Rodolfo's doorstep and spends her final moments in his arms. A particularly poignant moment occurs at the very end of the opera where Rodolfo takes a second longer than the others to grasp the fact that Mimi is dead. The music stops as he looks around, realization slowly dawning. When you have an an entire opera set to music, it's incredible how powerful a single moment of silence can be.
OperaUpClose has provided a truly accessible version of La Bohème with this production, and must be applauded for reinventing this very classical art form as a vibrant, engaging form of contemporary theatre and reaching out to an entirely new generation of opera-goers. One can only look forward to their next production, Norton-Hale's new English-language adaptation of Mozart's

Don Giovanni, out this summer.
The Crystalwords score: 7/10